The island is notable for its golden, sandy beaches and for its authentic natural beauty. The capital, Antiparos or Kastro, stands around the original nucleus of the medieval castle.
Among the principal attractions of Antiparos is the famous cave of stalactites on
Agios Ioannis hill. There is a chapel to St. John of the Cave (Agios Ioannis Spiliotis) at the mouth of the cavern.
Antiparos has a number of beaches with golden sand and blue-green water.
Every year, more and more visitors come to Antiparos, and as a result the hotels and limited number of rooms to rent have difficulty in meeting demand at peak periods. All around Antiparos are scores of tiny islands, like guards posted out at sea, inhabited only by wild rabbits and pigeons.
Archaeologists have investigated two of these islets: Despotiko produced traces of tombs of the Early Cycladic period, and Saliangos has the ruins of a Neolithic settlement.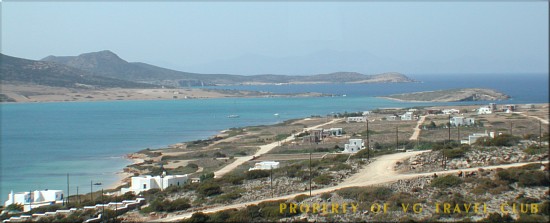 The coastline of Antiparos island - Agios Georgios area.