MILOS ISLAND - CYCLADES

all accommodation in > cyclades > milos

Area 160 sq. Km. Distance from Pireas 87 nautical miles.

Milos is the most southerly island in the Western Cyclades. It is notable for its volcanic soil and for the rich deposits of minerals that lie beneath. It has a distinctive horseshoe shape. The civilisation of Milos is considered to be as ancient as that of Crete, and spans a period of at least 5000 years.

Its fame spread throughout the civilised world thanks to the master-piece of the Venus de Milo, a statue found buried on the island in the 19th century and now in the Louvres Museum in Paris. Adamas, one of the safest natural harbours in the Aegean, is a particularly charming spot, with whitewashed houses, cobbled alleys, balconies crammed with flower-pots and fragrant tamarisks which have been extolled by the poets. Milos or Plaka, capital of the island today stands on a hillside overlooking the sea at the foot of the castle. It is a most attractive town, with architecture in the characteristic Cycladic style.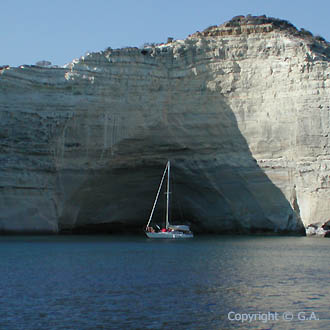 Among the most notable of its churches are those of Our Lady 'Korfiotissa', Our Lady 'Thalassistra' and Our Lady 'Messa Panagia'. The Archaeological Museum has a copy of the Venus de Milo as well as others finds from various periods. The Historical and Folklore Museum has a collection of folk artefacts, sample of the island's minerals, photographs and historical documents of the greatest interest.
At the north-eastern extremity of Milos is the modern resort of Polonia or Apolonia. Close by (3 Km) is Phylakope, the most important centre of population in Minoan times; the ancient city was built in three phases. Next to the archaeological site is the spectacular Papafranga cave. The sea-cave called Kleftiko is at the south end of the island. However, the most important monument on Milos is the island's famous catacombs, now open to the public. They are located at the village of Tripiti, 2 Km. from the main town of Plaka and they are among the most important of Early Christian monuments. Milos has excellent beaches at Hivadolimni, Polonia, Adamas, Emborio, Provatas, Paleohori and Agia Kiriaki. The extensive infrastructure for tourism in Milos, its clear waters and its fascinating monuments are helping to attract more and more visitors to the island. The nearby islets of Antimilos, Arkadies and Glaronissia are also of interest, each in its own way.
Milos island seems like it came out of a fairy tale. The rocks, the caves in the sea, the catacombs, the volcanos, the clam beaches and the rocky islets amaze all visitors. No wonder Afrodite came out of Milos.