A FEW WORDS ABOUT CYCLADES:
Cyclades islands are a group of islands of varying sizes scattered over the deep blue waters of the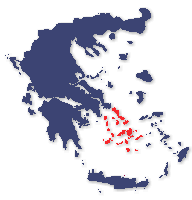 Aegean Sea. Some of them are well-known both to the public at large and the international 'jet-set', while others remain little known and scarcely figure on the tourist scene. taken as a whole, they make ideal holiday destination for visitors of the varied tastes.
A fusion of stone, sunlight and sparkling sea, the Cyclades lie to the east of the Peloponnese and south-east of the coast of Attica; they stretch as far as Samos and Ikaria to the east, and are bounded to the south by the Cretan Sea.
According to the most likely tradition, they owe their name to the notional circle which they appear to form around the sacred isle of Delos.
The Cyclades have exercised a powerful charm since ancient times, even though access to them was not particularly easy.
This was the birthplace of one of the Mediterranean's most important civilizations, one which took its name from the islands: the Cyclades civilisation (3000-1000 BC).